memandangkan cik fifie dah tag aq
dalam entry terbaru die so...
apa kata kite cube mau tak????




sape-sapa yang kenai dengan cik fifie nie
sila la ke sinun ek =)
knai-kenai leh laa ek nakai2 tak muleh nanti
Mr.K marah lak hihihi..kan cik fifie???
[ Cik Fifie In The House ]
so apa kata kite test tag tue ek
ayuh~!!!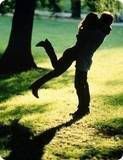 LOVE TAG
first time jumpa with your hubby bila.and kat mana?

kami jumpa di Perhentian PUDU dlm bulan 5 mcm tue laa
love at first sight?

sudeh tentu~!!!

who is he when the first time you meet him?

with my BFF syida cz die yg tmankan i jumpe cik mushuk di KL
how long it takes for him to ask you out of a date?

hurm tak silap aq ler de dlam bulan 3 mcm tue..tp msing-masing
malu-malu kucing gitus r

how he proposed?
melalui YM coz mse tue i dgn die duk kemaruk nak chat jer
nak kol tak berani lagi..no hp pun tak tahu
teruja siut~!!
special date with your hubby?
bagi aq semuanya special wat dirikuh k sygs
changes that he asked you to do?

setia dengan die s'org shja ..hahah~!!
coz dulu i notty cikit..now i really lap u mushuk





what is about him that you love so much.?
segalanya~!!!muktamad
what is about him that you wish he would like to change?

rambut pendek and NO misai~!!
tak suker le i
you will lose your mine and crack your head when he?

cik mushuk marah i ler kan..tak suke =)
you smile through your eyes for the whole day when he?

*berikan i hadiah yang tak disngka mase besday i
the big teddy and perfume..love it

complete below sentences
'my love towards my hubby is as big as..."
seluruh jiwa raga sy
aq amt cinta kamo cik mushuk
only YOU~!!!
tag kepada:
cik bella
kak yanie